Broderick Stephen Harvey, popularly known as Steve Harvey, is an American comedian, entertainer, and host. He has hosted several shows including Family Feud, The Steve Harvey Morning Show, Celebrity Family feud, Miss Universe, and several others. He started his career in the 1990s where he first performed as a stand-up comedian. Later, he hosted the show The Steve Harvey Show. Steve Harvey net worth is a sum of his successful TV shows as a host, actor, and comedian.
"God lets you be successful because he trusts you that you will do the right thing with it. Now, does he get disappointed often? All the time, because people get there and they forget how they got it."- Steve Harvey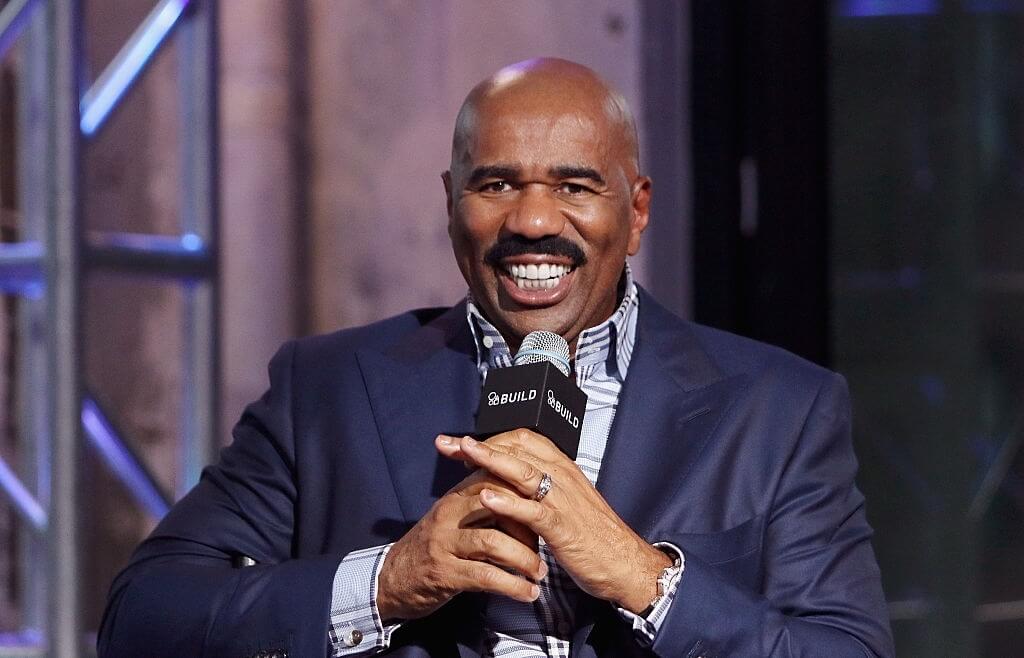 Early Life of Steve Harvey
Steve Harvey was born to Eloise Vera and Jesse Harvey on 17 January 1963 in Welch, West Virginia. Harvey was raised in Cleveland, Ohio. He attended the Glenville High School and later graduated from Kent State University and West Virginia University. About his childhood days, he says:
"My mother raised me in the church. I was not allowed to stay home on Sunday; there was no option. I sang in the choir all the way up until I went to college."- Steve Harvey
| | |
| --- | --- |
| Steve Harvey Personal Details | |
| Real Name | Broderick Stephen Harvey |
| Age | 63 Years |
| Date of Birth | 17 January, 1963 |
| Place of Birth | Welch, West Virginia, United States |
| Nationality | American |
| Marital Status | Married |
| Profession / Occupation | American comedian, businessman, and entertainer |
| Steve Harvey Body Stats | |
| Height | 1.85 m |
| Weight | 77 kg |
| Body Type | Normal |
| Chest Size | Unknown |
| Biceps | Unknown |
| Waist | Unknown |
| Eyes Color | Dark Brown |
| Hair Color | Bald |
| Shoe Size | Unknown |
| Dress Size | Unknown |
| Steve Harvey Family Details | |
| Spouse / Wife Name | Marjorie Elaine Harvey (m. 2007), Mary Lee Harvey (m. 1996–2005), Marcia Harvey (m. 1980–1994) |
| Father Name | Jesse Harvey |
| Mother Name | Eloise Vera |
| Children | Morgan Harvey, Jason Harvey, Lori Harvey, Broderick Harvey Jr., Brandi Harvey, Wynton Harvey, Karli Harvey |
| Siblings | Terry Harvey |
In the year 1980, Steve married Marcia Harvey and three kids; twins Brandi and Karli and a son Broderick Harvey Jr. the marriage ended in 1994 and 2 years later, Steve married Mary Lee Harvey. The couple had a son whom they named Wynton Harvey. The marriage ended in 2005. Steve's third marriage was with Marjorie Elaine Harvey in 2007. The couple is enjoying happy married life today. They have adopted three kids as well. when asked how he met Marjorie he said:
"The first time I saw my wife, Marjorie, I was doing stand-up in Memphis, and she was sitting in the front row. Afterward, I walked up and said, 'Ma'am, I'm going to marry you one day.' And 15 years later, I did."- Steve Harvey
Career
Harvey did several ordinary jobs such as a salesperson, carpet cleaner, mailman, and an autoworker. Later, he started performing as a stand-up comedian which made him jump heights of success and soon he was casted in the show Me and the Boys. In 1996, he came up as a host of another show The Steve Harvey Show. The show ended in 2002 and by then Steve has made his place among the top hosts and comedians. His other TV shows include The Proud Family (2001), My Wife and Kids (2002), The Parkers (2003), Steve Harvey's Big Time Challenge (2003-2005), Who Wants to Be a Millionaire (2010), Praise the Lord (2012), Comedians in Car Getting Coffee (2015), Little Big Shots (2016-2018), and Little Big Shots: Forever Young (2017).
He also hosted BET Comedy Awards in 2004 and 2005 and NAACP Image Awards in 2013. He has also appeared in some comedy films which include The Original Kings of Comedy (2000), The Fighting Temptations (2003), Love Don't Cost a Thing (2003), Johnson Family Vacation (2004), You Got Served (2004), Racing Stripes (2005), Madea Goes to Jail (2009), and Think Like a Man (2012).
"I'm a comedian first. I've learned how to act. I just draw on life experiences and that's how I've learned. I didn't take classes or anything. I don't need no classroom."- Steve Harvey
Awards and Achievements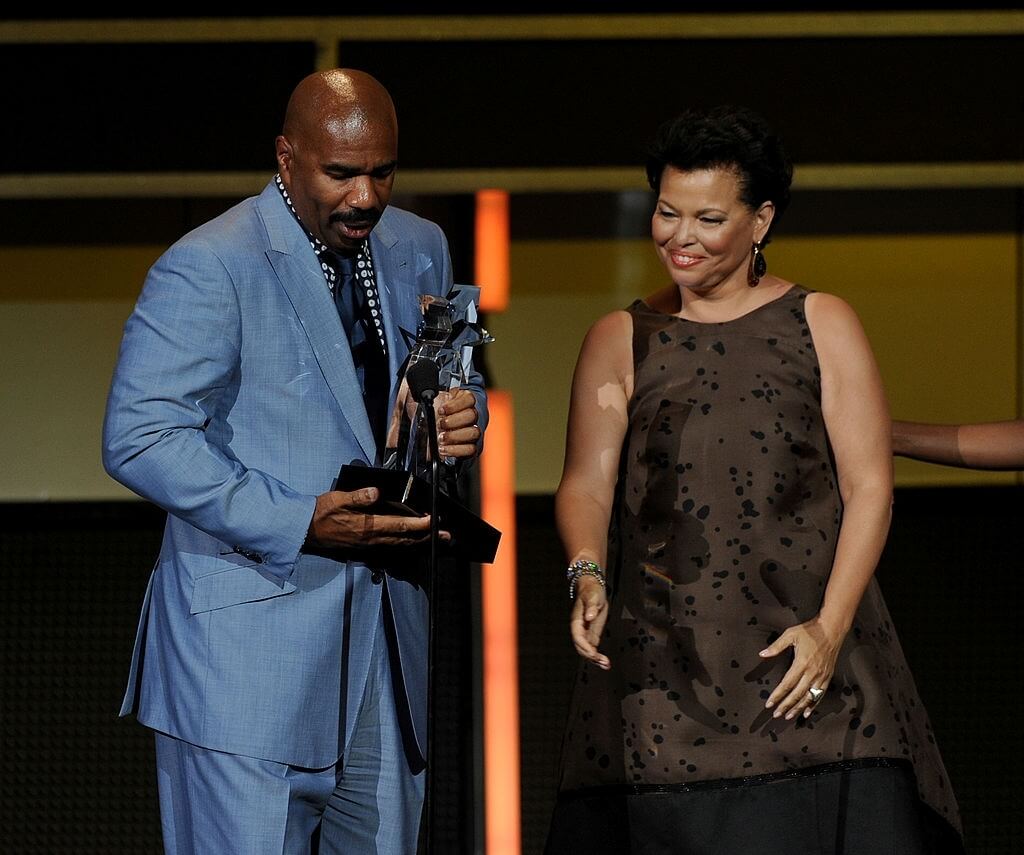 Steve won the  NAACP Image AwardsOutstanding Actor in a Comedy Series for four consecutive years; 1999, 2000, 2001, and 2002. He also won the  NAACP Image Awards Outstanding Comedy Series for his show The Steve Harvey Show in 2000, 2001, and 2002.
In the year 2013, he won the People's Choice Award for Favorite New Talk Show Host.
In 2014, he won two Daytime Emmy Awards; one for Outstanding Game Show Host and the other for Outstanding Talk Show Informative.
He was also awarded a star in Hollywood Walk of Fame in the year 2013.
"I'm going to take this God-given gift of being funny, and I'm going to spread it out like peanut butter on everything I do."- Steve Harvey
Steve Harvey Net Worth and Salary
Steve Harvey net worth today is around $200 million. He has done some amazing talk shows and hosted few comedy shows as well that took his fame and money to higher levels. His struggle paid him in terms of good name and increasing income. He has also worked in few comedy films which also contribute to his net worth.
"God has positioned me just this way to be just like I am, to say what I say how I say it."- Steve Harvey
Bottom Line
Steve Harvey proved himself as an outstanding performer. He is a remarkable host, one of the best comedians and actors. The Steve Harvey Show and The Steve Harvey Morning Show are some of his shows that he got famous for.
"I had, like, 11 jobs. I've been fired 11 times! 'Cause I'm not cut for that. You know, I was a great employee, man. Everybody loved me coming to work – I'm singing, tellin' jokes on the assembly line. I was miserable, man. I was dying. I was dying."- Steve Harvey
A good message by Steve Harvey:
"A person has to remember that the road to success is always under construction. You have to get that through your head. That it is not easy becoming successful."- Steve Harvey